Micro Reality racing is more age appropriate than the moon jump (think tweens and adults),
has better throughput than the rock climbing wall and is slightly addictive.☺
"Prime Time Racing has been at the top of my clients' "must have" company picnic requests since I started offering the racetrack. Customers that have used the attraction almost always ask me to rebook it for the following year – sometimes before we even decide any other details about their event."
Tim McGivern, Hel's Kitchen Picnics
TRY SOMETHING DIFFERENT THIS YEAR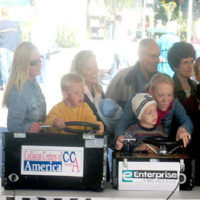 How does it work?
These huge cars are nearly 2'L and they really move around the giant 28'L banked oval speedway. These are NOT slot cars. Each participant races using a full size steering wheel and shift column. Just like real racing, you get the spectacular crashes, the high-speed spinouts and the bumping and rubbing of real stock car racing. This nonstop action has made Micro-Reality stock car racing the ultimate interactive, company picnic experience!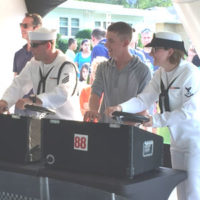 Is it expensive?
Pricing is based on the duration of the racing and we have structured a variety of different deals based on sponsor needs and budgets. Most groups get some type of local sponsorship and of course your group is welcome to charge per race to offset the cost. Per person entertained, it's more affordable than you might think.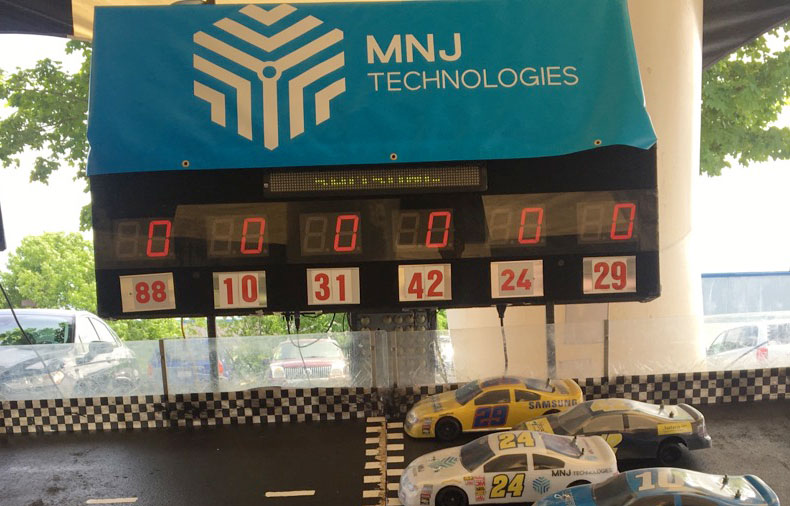 How can I get a sponsor?
Getting a sponsor might be easier than you think. Their company names or ad messages are displayed on our electronic scoreboard and they can hang 2'H x 6'W banners (best size) around the track at no charge. Our staff is available to assist and/or pass out sponsor promotional items. For a slight additional charge we can logo a car itself and/or the steering consoles. Any company that wants a captive audience will see tremendous value in the racing. Automotive related businesses are always a great fit: car dealers, repair shops and insurance companies.
Do you have insurance?
Absolutely and we are happy to share the details with you. We can also include your community or your sponsors as additional insured at no charge.
Have we done it before?
Absolutely and most have us back year-after-year. Here are some of the communities we have worked with:
Arlington Heights
Bartlett
Beecher
Berwyn
Bolingbrook
Channahon
Chicago Ridge
Crystal Lake
Des Plaines
Dyer, IN
Elmhurst
Gurnee
Hickory Hills
Highland, IN
Mount Prospect
Oak Lawn
Oak Park
Orland Park
Richmond
Round Lake
St. Charles
Steger
Tinley Park
Vernon Hills
Villa Park
Zion
"The racing added a new and exciting dimension to the annual St. Charles Scarecrow Festival. It's the kind of activity that everyone can enjoy, from grade schoolers to grandparents. We look forward to working with this "PIT CREW" for many years to follow."
Patty Thayer, Scarecrow Festival
"Eric, The Racing was HUGE again this year!! A special thanks to you and your crew for always being so prompt and courteous! You guys are great!"
J.B., Mount Prospect
"Eric, Thanks for being at our event again this year. Your staff is the best and as always, the Racing is the most popular attraction! We look forward to seeing you next year"
J.T. Villa Park Summerfest
"Our local (Illinois) police department has hired Prime Time Racing for the past five years as part of our award-winning National Night Out celebration. Prime Time Racing is excellent to work with, prompt, professional, and provide an entertainment product unlike any other. During our event, which welcomes 3,000-5,000 residents over the course of the night, there is always a crowd around Prime Time Racing with people eager to try out the cars. The great thing about their company, is that it appeals not only to kids but to adults as well! I would HIGHLY recommend you reach out to Eric or Brian to book Prime Time Racing for your next event. It will provide a unique entertainment option that EVERYONE will love.
Tracy Dendinger, Barlett National Night Out