How long does it take to set up the track?
Set-up of the track takes five man-hours to complete, so our staff will begin two hours prior to racing. Track teardown can usually be accomplished in about an hour.
How many racers can we handle?
The four-car setup allows an average of 80 racers per hour. The six-car setup can accommodate 100 racers per hour. Expect to triple these numbers for entertainment value. Many spectators enjoy the races even if they don't drive.
Do we need to help setup the track or run the races?
No. Prime Time Racing handles all aspects of setting up the track, managing the races, and tearing down the track after the event. Just show us where you want us to set up and stand back to watch it happen.
What are the space requirements?
INDOORS: a 20′ x 30′ space is required. The system can be easily carted into most facilities but we cannot navigate stairs.
OUTDOORS: a 36' x 36' space is required for our inflatable tent. We can set-up on grass or pavement but the ground has to be reasonably flat and level. The tent is inflatable so there is no risk of damage to your grounds. We also require adjacent space for a 7' x 14' trailer. This is where the magic of car repair, battery charging, etc. happens.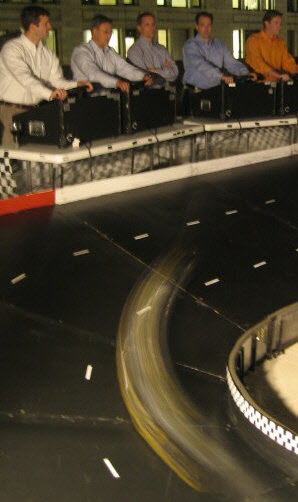 Is a tent required for outdoors?
Yes. Due to the sensitive nature of our electronic components we must be protected from the elements.
What are the electrical requirements?
Inside or outside, two standard 110 volt 20 amp wall plugs is all that is needed. A generator can be supplied for an additional fee.
How much does it cost?
Pricing is based on the racing time of your event. Longer events and multiple days cost less per hour. Please contact us for details.
Can we sell tickets to race?
Prime Time Racing does not do any pay-to-play events. Your group can absolutely charge to race and our staff is happy to help in collecting tickets.
Can we customize the track?
We encourage our clients to work with us on decorating the track if advertising or brand awareness is important. Custom car bodies can also be designed to give you further exposure on the track. After the event, the car body is yours to keep. Most clients are thrilled to see a car with their logo and colors out on the racetrack. Please contact us for pricing information.
How far in advance do I have to schedule you?
There is no specific amount of time that we need. However the sooner you commit, the more likely it is that we will be available on your date(s). If you are interested in having custom car bodies designed for your event, we need a minimum of four weeks to have them produced, depending on quantity and complexity.
How far do you travel?
Although we are completely mobile, we operate primarily in the Chicago area, NW Indiana & SE Wisconsin area.
Do you have insurance?
Absolutely and we are happy to share the details with you. We can also include your group as additional insured at no charge.